Your Reliable Fitness Equipment Supplier
Rizhao Ape Fitness Co., Ltd., established in the year 2012, is a fitness equipment and sports products company specializing in design, R&D, manufacturing, marketing, and exporting, located in Rizhao, Shandong, China, a base area of all sorts of fitness equipment of China.
We have been serving clients from all over the world, mainly from the United States, Canada, United Kingdom, Germany, France, Italy, Spain, Serbia, Poland, South Africa, Japan, India, Korea, Indonesia, Thailand, Vietnam, Australia, New Zealand, Argentina, Peru, Brazil, and all other clients from different countries and regions.
Our annual sales amounts reach more than 10 million dollars. The development of our company is fast and steady, thanks to our professional and strict quality and cost control. Every year we invest at least 10% of our revenue in upgrading our products and molds, in this case, we can always ensure we won′t lag behind in this fitness field.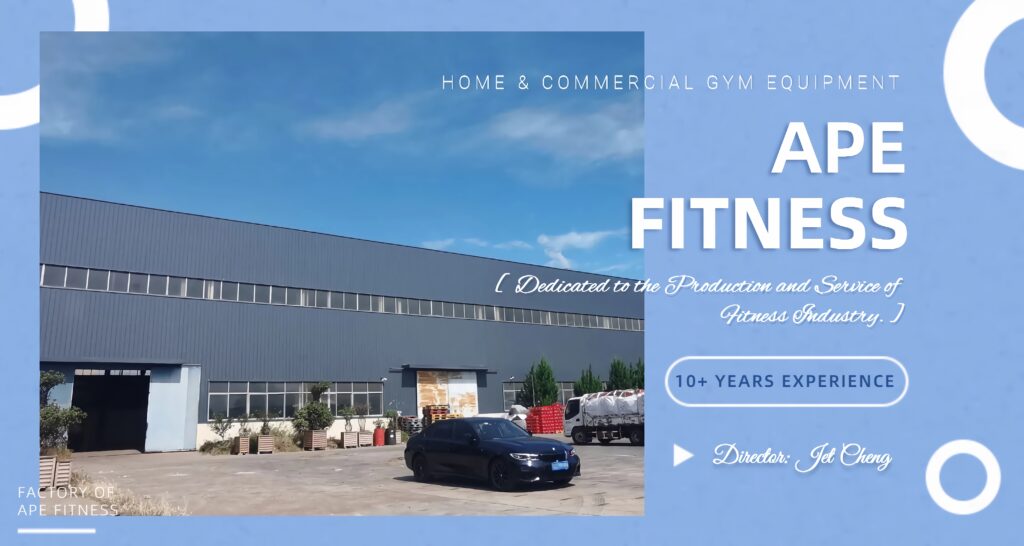 As a manufacturer and exporter, we are responsible for taking good care of every order, sincerely and honestly, and thinking as the customer does. Besides, the support from our customers has allowed us to not only continue to expand but has given us the opportunity to focus on research and development. We are really grateful to our customers because, with them, we could find our disadvantageous and shortcomings in time, so we can get improved day by day. Only quality possesses markets, trust us, we are only getting started.
"One step in front of the other, we will take the mountain. See you on the other side."
Home and commercial gym equipment are our advantageous products, including Treadmills, Rowers, Ski Erg, Spinning Bikes, Commercial Strength Machines, Kettlebells, Olympic Barbells, Calibrated Steel Plates, Dumbbells, PU Plates, Bumper Plates, Rigs, Power Racks, Squat Racks, Adjustable Benches, Flat Benches, Medicine Balls, Slam Balls, Jump Boxes, all sorts of Storage Racks, Aerobic Steps, Elastic Bands, Clubbellls, Macebells, Sand Bags, Gym Rings, Battle Ropes, Climbing Ropes, Skipping Ropes, etc.
No. 252, Beijing Road, Donggang District, Rizhao 276800, Shandong, China